Excellent Electrical Work for Healthcare
One-Year Warranty | 24/7 Emergency Service | In Business Since 1984

Atlanta Commercial and Industrial Electrical Contractor "Ozburn Electric" receives "Certificate of Appreciation" Award!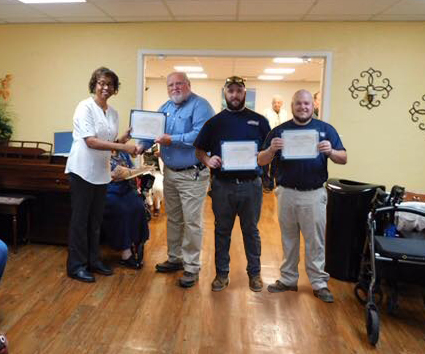 Recently Ozburn Electrical Contractors received an unexpected award for going above and beyond in providing extraordinary electrical service.
In early November of 2018, Applewood Towers, a group of high-rise buildings built for the assisted living community were in an immediate need for consultation and electrical services offered by OEC. The Facilities Manager, Ms. Hattie Whitehead, has received notice from the city of Lawrenceville, GA that she would be undergoing a certificate inspection at the Applewood Towers facilities. In this notification, one issue were the numerous electrical items that would need to be addressed prior to the inspection. Ms. Whitehead stated that "it's imperative that the facilities pass the inspection and that was the reason that I called Ozburn Electrical Contractors."
After receiving Ms. Whitehead's call and noticing the urgency in her voice, OEC immediately sent two of their available technicians out to review the concerns of Ms. Whitehead. OEC Technicians Mickey Anderson and Daniel Rowell evaluated and assessed the concerns and the situation and in a short three day period had all of the electrical issues resolved, fixed and secured allowing an above grade in receiving the Certificate of Inspection from the city inhouse pharmacy.vu .
Upon successful completion of work and securing the necessary Certificate of Inspection, Applewood Towers was able to continue supplying an affordable living space for many assisted-living individuals from the metro-Atlanta area.
On Wednesday, November 7, 2018, in recognition of providing a high-quality service in an extremely short amount of time, Applewood Towers management decided to recognize Ozburn Electrical and it's two employees, Mickey Anderson and Daniel Rowell, each with "Certificates of Appreciation" for "going above and beyond in providing extraordinary service". The management of Applewood Towers also awarded Ozburn Electric with a "Certificate of Appreciation" for a job well done.
Ozburn Electric is a family-owned electrical company that Terry Ozburn started back in 1984. Owner Terry Ozburn commented about the company's longevity, "having come this far, we are truly grateful to all of our wonderful customers, like Applewood Towers, and our great employees".
"having come this far, we are truly grateful to all of our wonderful customers, like Applewood Towers, and our great employees". -Terry Ozburn, Owner
Ozburn Electrical Contractors is a local metro-Atlanta electrical company that provides comprehensive electrical services for Industrial, Commercial and Residential needs. Ozburn Electrical Contractors provides a broad spectrum of electrical services from installing AC/DC drives and designing energy-saving LED lighting systems to small projects such as installing and wiring a 120-volt duplex receptacle or additional outside lighting for your home. As a member of the Independent Electrical contractors  (IEC) Association, they proudly serve the entire Southeastern United States.
We Are Here for All Your Health Care Electrical Needs!
Whether you need electrical installations or upgrades for a hospital, nursing home, retirement community, assisted living or schools, Ozburn Electrical Contractors won't let you down! Our electricians have over 30 year of experience in handling electrical installation needs efficiently. We have serviced with new and renovation work for many healthcare facilities including hospitals. Call us today for all of your emergency needs because when it comes to taking care of others, downtime is not an option.
Our work is backed by a
one-year warranty
. If you'd like to learn more about our services, please feel free to
contact
us. Someone is always on call to answer your questions and address your concerns.
Are you noticing your home's lighting starting to flicker or lose power on a more constant basis? Then you need an electric lighting upgrade! Call us at 770-784-1618 or email us at info@ozelec.com today.
Medical Grade Electrical when needed
Electrical Safety and Maintenance Inspections
Electrical panel upgrades
Recessed lighting
Electrical troubleshooting
Dedicated circuits
Wiring
Electrical Surge Protection
Attic and bath exhaust fans
Ceiling fan installation
Fixture repair and replacement
Indoor/Outdoor Lighting and Upgrades
Outdoor/landscape lighting
Hot tub and appliance wiring
Dedicated Circuits and sub panels
Dimmer and light fixture installation
Breaker replacements
Our Electrical Technicians are:
Fully screened, drug tested, and background checked for your peace of mind
Neat, clean and uniformed for safety and security
Friendly, helpful, and reliable. We don't hire anyone we wouldn't hire to work inside of our own homes.
Knowledgeable, experienced and skilled
Rigorously trained in customer service
Top-notch troubleshooters who specialize in saving you time and money
Fully outfitted with state-of-the-art diagnostic tools and a huge inventory of parts
Fully licensed, bonded and insured