Greater Employee Retention and Customer Happiness
EV Chargers are a great option to provide for your employees and your customers at your commercial or retail locations. It is a great incentive for customers to frequent your location. While they get their electric vehicle charged, they can spend their time shopping or dining. This is a win/win for both the retail location and the shopper. This also allows for greater employee and customer retention and a better work and shopping environment. Ozburn Electric will be happy to complete a site survey and recommend the best EV Charging option for your commercial building or store location. With over 50 Level 2 EV Charger installs for Walgreens, you can't go wrong with choosing Ozburn Electric. For more information, please call Ozburn Electric at 770-784-1618 and an associate will be more than happy to assist you.
EV Chargers Frequently Asked Questions
You will find answers to some of your most common EV Charger related questions here.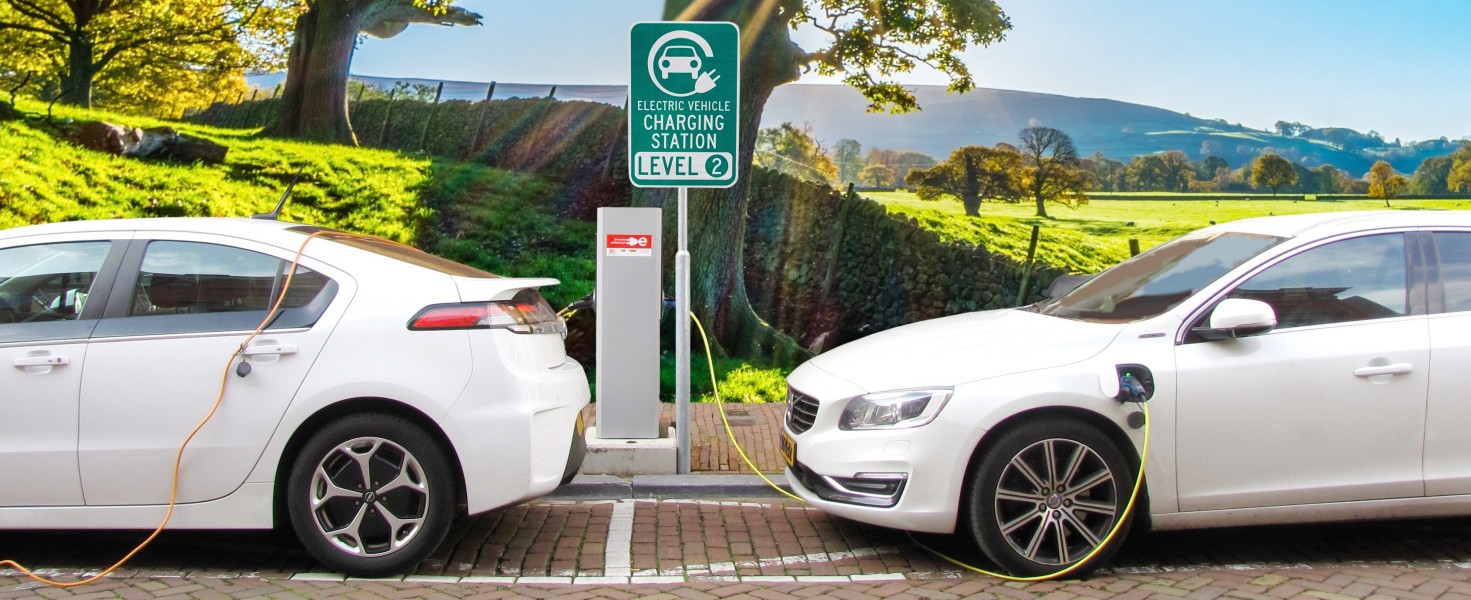 Has Ozburn Electric done any "EV-ready, or EV-capable, or even EV-installed " in new, ground-up construction jobs. Meaning setting up the electrical system to allow for new or future installs of EV chargers?
We have not done any jobs considered an "EV Ready" install. All of our jobs in the last few years have been working in conjunction with SemaConnect and are seen from start to finish. Not only have we not done "EV Ready" type installs, we never see them on Electrical Drawings for new construction. It is almost like the design engineers are not thinking ahead and adding them to the drawings. This would be a wonderful opportunity for new construction to go ahead and add an "EV Ready" location that is pre-wired with a 208v 40amp connection. Ozburn Electrical currently reviews over any new construction drawings to look for an opportunity to add "EV Ready" or suggest "EV Installed" to the engineer, franchise owner or retail owners. During this phase of new construction, this is a perfect time to consider this and you (and the business owner) are almost guaranteed to be the first in town with an EV Charging station.
There really needs to be an incentive created for this. A few years back under the Obama Administration there was an incentive but it became afoul of corruption and tainted the entire program that really had good intentions. Click Here to Read More. This same fraudulent company mentioned in this article ended up owing Ozburn Electric and they defaulted on the debt that was owed to Ozburn Electric. Ozburn Electric had to absorb the loss and continue on. During this process, Ozburn Electric ended up in an "unofficial" partnership with SemaConnect. Both companies had been taken advantage of by this company. Now both companies have become stronger from this. Although Ozburn Electric has an "unofficial" partnership with SemaConnect, we would be delighted to work with any EV manufacturer, contractor or sub-contractor.
Who is the company partnering with on these installation jobs? How were they secured?
Ozburn Electric does not officially have a "partnership" with an EV Charger supplier, but we know many suppliers in the industry. We have a great working relationship with Blink, SemaConnect and Juice Bar EV. We also have access to the most modern state-of-the art equipment from Level 2 EV Chargers all the way up to Fast DC or Level 3 EV Chargers.
We also work together with our vendors in serving the Class A property market. We can provide a site survey to a prospective end user such as an Apartment Complex, Commercial Buildings or even employee parking for Commercial and Industrial Manufacturers. Once the site survey has been accomplished, Ozburn Electric designs and installs usually one or two EV charging stations per site. There are cases where a site may require even more EV Charging Stations but two per site is usually sufficient.
Once installed on the client's property, the EV Charger manufacturer manages all aspects of your EV amenities so the enduser can make the most of their charging experience.
Once installation is complete, either Ozburn or the EV Charger manufacturer provides instructions from easy maintenance to parking payment solutions, education services, marketing opportunities, and ongoing support and feature enhancement.
It's noted in the online release that the company has developed some expertise in this area. What's involved in this work that make it unique and challenging?
Ozburn Electric loves to be at the forefront of technology and SemaConnect is one of the leaders of the industry when it comes to EV Charging technology. We love the fact that we have teamed up with a great company in SemaConnect which allows us to feel confident in the product and service that we provide every time we install a SemaConnect EV Charger. We also love the fact that once we leave, SemaConnect gets with the host(s) and provides initial training to ensure that the enduser has a wonderful charging experience.
It feels good to know that we had a part in helping keep the carbon emissions down with a sustainable and "Green" product. We are stewards of this wonderful planet that God has given us and it is required of us to take care of it. Our partnership with SemaConnect and our thorough knowledge of EV Charging has allowed us, in a sense, to take care of our planet.
Is the company actively marketing itself in this area, and does it see this as a viable business in the future, a profit center of sorts?
We are currently in the process of revising our overall marketing strategy here at Ozburn Electric. We have a new Director of Marketing, Glenn Ozburn, who is devising a strategy now which will include offering more sustainable options for our customer base. Meanwhile when we are servicing our customer base, we do offer value added services like adding on EV Charging for our customer's clients. Although Ozburn Electric does see this as another avenue for profit, we are also thinking about the future and how EV Charging can have such a wonderful impact for generations to come. The little costs that goes into front-end installation of a single EV Charger will pay out in dividends in the future by offering a more sustainable, carbon-free product for our customers.
As far as the future goes, Ozburn sees this sector as a viable business in the fact that more and more automobile manufacturers are producing more and more EV Cars. As more and more EV cars enter our highways, we see an increase demand for EV Charging installation.
Right now it is about educating the public and in particular our customer base. When we get the opportunity, we are happy to educate facilities managers, plant managers, business owners, etc. about the latest EV Technology and how it could impact their in-house sustainability initiatives.
What type of charging technology is the company installing?
Our main area of expertise seems to be at Level 2 Smart Charging Technology powered by 208v circuit with dedicated 40 Amp Breaker. This same technology gives the consumer the ability to communicate via the manufacturer's App for both IOS and Android smartphones. We are open to and highly competent in installing Level 1 in residential construction and also DC Fast Charging when the opportunity arises.
There are various forms of charging capabilities:
Level 1-charging is basically plugging your vehicle up using a standard ordinary household plug. For example, utilizing Level 1 charging, a Nissan Leaf can obtain about 4-5 miles per 1 hour of Level 1 charging. To fully charge the Leaf, it may take up to 22 hours of Level 1 charging. But also consider that you rarely have to do a full charge and typically an overnight charge is sufficient for most daily travel.
Level 2-charging is 240 volt charging like what you would power a electric house over or clothes dryer. It's a little more expensive than Level 1 but less than DC Charging. Level 2 allows for a wide range of charging speeds, all the way up to 19.2 kilowatts (kW), or about-70 miles of range per hour of charging. This is the industry standard and this is the what Ozburn Electric wants to set the standard for in the Southeast.
DC or DC Fast Charging-is the fastest EV Charging available at the moment. These type stations are extremely expensive and require more power than an average house. It provides up to 40 miles of range for every 10 minutes of charging.
Does the company see opportunity in the future in doing larger scale EV charging install work, perhaps even DC fast charging work?
SemaConnect doesn't manufacturer DC Fast Charging but may be open to it in the future if the demand is there. Although DC Fast Charging is an extremely fast way to charge your EV, there is an expensive setup fee plus not all EV are manufactured to the standards of DC Fast Charge technology. There are DC Charging units that cost upwards of $100,000 and that makes it cost prohibitive for a lot of business owners and apartment complexes. For now, SemaConnect is only a manufacturer of Level 2 Charging and that is the industry standard. Ozburn Electric wants to be able to provide affordable solutions for those that want to install EV Charging capabilities at their work place or for their customers. We are willing to work with all EV Charging Manufacturers.
What kind of penetration are electric vehicles getting in your region? Does it look set to grow?
This is an extremely fast growing segment of the automobile industry and for electrical service providers like Ozburn Electric. EV is not only a great solution for our carbon footprint, it is another way to become energy independent from the middle east nations. Greater Atlanta is experiencing a very strong EV market. We have also heard through Randy at SemaConnect that Texas and Florida are also extremely strong EV markets. Ozburn Electric expects this trend to grow exponentially over the next few years as automobile manufacturers sell more Electric Vehicles. For other electrical service providers like Ozburn Electric, this would be a great segment of the electrical services market to enter in to.
What does the immediate/long-term future look like for this as a business area for the company?
As electric vehicles continue to become popular and the market grows, so will the demand for convenient charging stations. Long-term growth for strategically placed EV as a profit center will grow but more so for convenience. There are more and more apartment complexes, hospitals, businesses, retail environments asking us for information about EV charging capabilities not for profit but for convenience and as a amenity for their renters, employees and customers. Level-1 technology has it's place but it is extremely slow and really only fitted for the residential market. Level-2 appears to be the industry standard at the moment but it has its own drawbacks on convenience and charging speed. DC Fast Charging is extremely fast and this would most likely be everyone's pick because we seem to be a nation always on the go. We could see one day where something similar to DC Fast Charging would be the new industry standard but the front-end installation costs and automobile manufacturers will need to dictate this.
Also a few years back the auto industry were smart enough to standardize the plug for every type, make and model of EV Vehicles. Since 2006, it has been mandatory for every EV manufacturer to only use the SAE-J1772 plug (known as the "J-Plug") for every EV car in the United States.