Ozburn Electrical Contractors Has Been In Business Since 1984.
Our Mission Statement
We will provide unsurpassed customer service by utilizing teams that are empowered and committed to issuing 100% customer satisfaction. We will continuously seek, find, and provide the best training for team members. For every dollar our customer spends, they will be provided with the industry's finest. From the phone call…during the service… and after the service… We offer a one-year warranty on our work. Contact us today. 24/7 emergency service is available!
We Are A Family-Owned Electrical Company
The owner of Ozburn Electrical Contractors, Harold T. Ozburn (Terry), started the business with his wife, Patricia, in 1984. Having come this far, we're truly grateful to all of our customers and employees for this milestone. We truly realize that you, the customer, are the keys to our success. We want to put the customer first and our employees a close second. We realize that the second key to our success is our employees. We strive to show our employees that we love them and care for them. Our employees are our agents on behalf of the company. When first impressions matter so much, we want to lead the electrical industry with only the best employees to serve our wonderful customers.
Here are the reasons for the success of our family-owned business: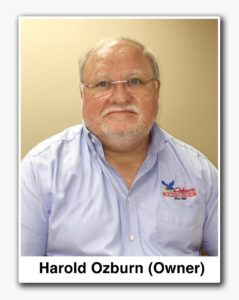 We strive for long-term customer relationships.
We know what it takes to keep these relationships intact, such as the quality of products and services we provide.
Our willingness to be flexible is undeniable. We strive for timeliness in meeting each commitment and steady completion of your work while keeping a close eye on customer satisfaction.
By simply delivering what the customer wants, we've made thousands of customers feel secure with a job well done. We really do care about each customer. From the first phone call, through our first physical appearance, the estimating process, and throughout the completion of the work, you'll be completely satisfied with our service.
Experienced and Certified Electricians
Before joining our team, every potential employee must go through a series of interviews and tests, including a full character background check, drug testing, motor vehicle check, IQ test, and trade test.
Once hired, if they've not had accredited formal training, they're required to complete either a two-year or four-year Electrical Program established by the Independent Electrical Contractors Association, which we are active members of.